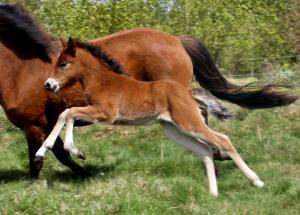 THE ACCIDENT FOAL HEKLA – We continue to introduce our 2012 foals on hamarsey.is.
Next one up is an accident foal, a foal that was produced by a gelding and one of our most promising young mares, both 2year old at the time. Grettir, the father, was castrated in the spring of 2011, then 2 years old, and some days later let out to the young mares. There he managed to get Harka frá Hamarsey, the mother, and also 2 years old, pregnant.
Color: Bay with a star
F: Grettir frá Hamarsey
M: Harka frá Hamarsey
Litur: Jarpstjörnótt F: Grettir frá Hamarsey M: Harka frá Hamarsey Við höldum áfram að kynna folöld ársins 2012 til sögunnar hér á heimasíðunni. Áður hafa verið kynnt merfolöldin, Gabríella (F: Herjólfur), Katla (F: Krákur) og Pólstjarna (F: Vilmundur). Næsta folald er slysafang, sem varð til á þann ótrúlega hátt að 2ja vetra hestur úr okkar ræktun, Grettir frá Hamarsey fyljaði nýgeltur 2ja vetra hryssuna Hörku frá Hamarsey. Grettir var geltur að vorið 2011, og settur út í unghryssurnar um tveimur sólarhringum eftir geldinguna. Það var svo ekki fyrr en undir vor að það fór að bera á óvenjukviðmikilli unghryssu í stóðinu. Það var happ í óhappi að Harka er einstaklega stór og þroskuð 3ja vetra hryssa og henni gekk vel að kasta folaldinu. Folaldið, sem nefnt var Hekla í höfuðið á heimasætunni á Hamarsey, er einstaklega vel heppnað. Bráðhugguleg og með sjarmerandi hreyfingar.